Guild Associates is a leader in the design and manufacture of immediate decontamination products.  Guild Associates developed the A200 Sorbent material in conjunction with the Edgewood Chemical and Biological Center in the early 2000's.  A200 was developed to replace the expensive XE555 Decontamination Powder.  Over two million pounds of A200 has been produced by Guild Associates in support of the M100 and M295 decontamination kits.
A200 material is a mixture of silica-alumina particles and activated carbon.  During the manufacturing process, conditions are carefully controlled to produce the optimal particle size and pore structure.  The sorbent functions by physically adsorbing the chemical agent into the pores of the material, where it is held by strong molecular bonds.  The chemical agent retained in the pores is rendered inert, and thus the resulting powder is not hazardous material.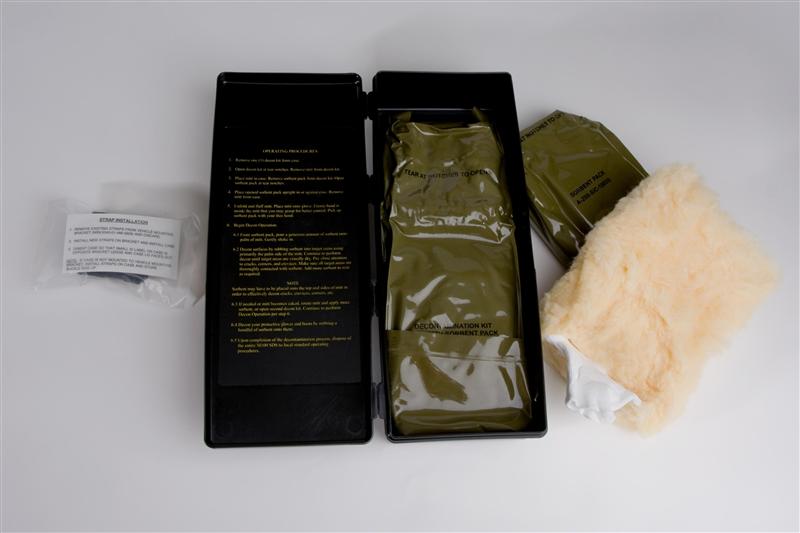 Guild Associates supplies both the sorbent powder and the M100 Equipment Decontamination Kit to the Department of Defense.  The M100 consists of two 500g pouches of A200 Sorbent, an application mitt, and the plastic container.  During Immediate Decontamination, a soldier clad in MOPP gear can effectively treat 12.5 square meters of surface area.  This will remove the surface contamination, thus containing the spread of the agent.  The equipment can be passed into Thorough Decontamination for further processing.
The MWD Decon Kit is currently at the Prototype stage, and has been successfully tested in DTRA's 2021 Chemical Biological Operational Analysis held at Ft. Story, VA.  The kit is comprised of two solutions, applicator mitts, soft brush, eye rinse, and two drying towels.  The kit is capable of being carried in the dog's handler's backpack, and is designed to soothe and decontaminate the MWD.  The kit features GA200 Sorbent Powder as the decontaminant, which exceeds the A200 powder for efficacy, reactivity, reactive capacity and vapor off-gassing.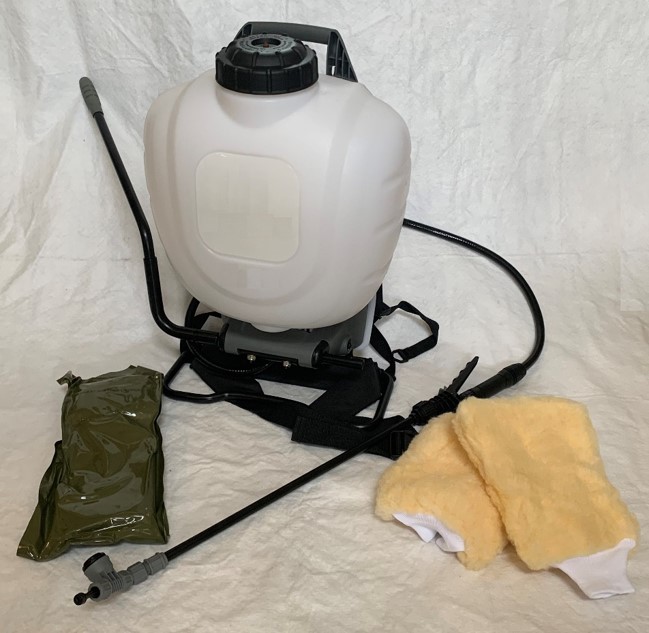 The Vehicle Decon Kit is currently at the Prototype stage.  The kit is comprised of a commercial hand-pump sprayer, a pouch of GA200 Sorbent Powder, and two applicator mitts.  The sorbent powder is mixed into a slurry with any field-available fuel such as gasoline, diesel or JP8 and sprayed onto the vehicle surface.  The applicator mitts are used to rub the slurry on surfaces to draw the chemical agent out of CARC or other paint as well as porous surfaces.  The GA200 will render the chemical agent or TIC inert, and can be permitted to disperse into the environment when the fuel evaporates, as it is not environmentally hazardous.
Guild Associates is also a leader in the general knowledge of decontamination testing, application and processes.  Guild's scientists have authored and co-authored numerous scientific papers and made presentations at key industry conventions and trade shows, and are frequently consulted opinions on test methodology and sample preparation by Department of Defense divisions.  Below is a partial list of the recent publications in the field of decontamination.
| | |
| --- | --- |
|  2012 | Bandosz, T.J. ; Laskoski, M.; Mahle,J.; Mogilevsky,G.; Peterson, G.W.; Rossin, J.A. and Wagner, G.W.;  "Reactions of VX, GD, and HD with Zr(OH)4: Near Instantaneous Decontamination of VX."  J. Phys. Chem. C. 116 (2012) 11606.   Click Here to View Abstract |
|  2005 | Brown, R.S.; Rossin, J.A.; Kotary, J.F.; Fitzgerald, G.; Gerhart, K.G.; Mearns, H.A.; Newton, R.A.; Keller, J.H.; Mawhinney, D.B. and Yates, J.Y.; Decontamination of Chemical Warfare Agents using a Reactive Sorbent.  U.S. Patent 6,852,903 (2005).  Click Here to View Abstract |