LNG Pretreatment for Liquifiers
Guild Associates' Molecular Gate™ Pressure Swing Adsorption (PSA) systems can remove carbon dioxide from gas streams to 50 ppm or less as a pretreatment for liquifaction.  This technology has been successfully implemented in two long-running LNG systems in the United States and United Kingdom, both using landfill gas as the source gas.  The Molecular Gate PSA process removes water, carbon dioxide, hydrogen sulfide and heavy hydrocarbons in a single step process, greatly simplifying the equipment needed for LNG pretreatment.
This LNG Pretreatment can also be applied to micro-sized LNG plants utilizing pipeline gas as the feed source.  Guild Associates has supplied systems to operate from distribution pipeline pressure for use in 11 ton per day liquefaction plants.  These plants are entirely skid mounted, easily transported and quickly commissioned.
Case Study: Altamont Landfill LFG to LNG Powered by Guild Associates!
Waste Management owns and operates the Altamont Landfill in Altamont, California, which is the only landfill gas to Liquefied Natural Gas facility in the United States.  Guild Associates supplied all the gas clean-up equipment from the flange of the landfill gas collection system to the flange of the liquifier, including:
Feed Compression of 2300 SCFM landfill gas
Hydrogen Sulfide removal tanks and control system
Temperature Swing Adsorption (TSA) gas dryer with chiller
Membrane bulk CO2 separation system with integral recycle compression for enhanced recovery
Molecular Gate Nitrogen Removal PSA
Waste/Off-gas Flare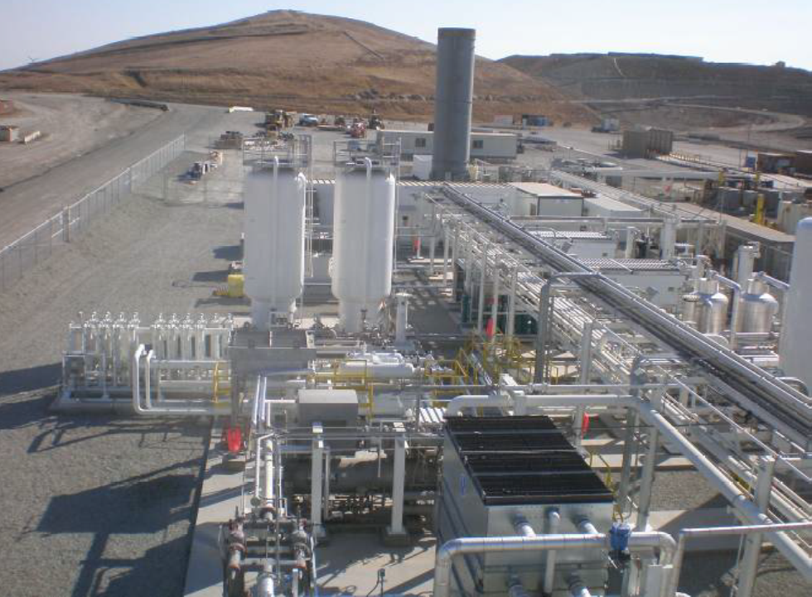 The LFG to LNG facility at Alamont has been awarded multiple awards including:
2010 Breath California Clean Air Award
2009 EPA Project of the Year
2009 US Department of Energy Clean Air Champion Award.
In the embedded independent video from Energy Now, learn about the benefits of Guild Associates' LNG Pretreatment.