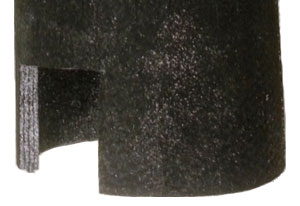 M98 filters degrade over time due to exposure to airborne Battlefield Contaminants (BFCs) that include SOx, NOx and fuel vapors.  Guild Associates, Inc., working with ECBC and NSWC Dahlgren, developed a Guard Bed to remove BFCs upstream of the M98 filter, thereby prolonging the filter life.  The Guard Bed is comprised of media loaded webbing in the form of a semi-rigid, self-standing annular ring that fits inside the inner HEPA filter.   Installed at the time the M98 filter is first brought into service, the Guard Bed will remain in place until the M98 filter is replaced.  The net effect of the Guard Bed is to extend the service life of the M98 filter by in excess of 25%, resulting is significant annual savings.
Location:   The radial flow geometry of the Guard Bed allows it to fit inside the HEPA filter, still leaving space for the dust sock.
Size:  The light weight Guard Bed can be manufactured to fit the length of the filter plenum.
Pressure Drop:  The pressure drop through the Guard Bed is less than 1" water column at standard flow conditions.
Materials of Construction:  The Guard Bed is comprised of polyester webbing that will not corrode or otherwise degrade during its service life.
Modularity:  The Guard Bed is sized to fit all current M98 filter configurations.
Adaptability:  The Guard Bed configuration can be changed to maximize effectiveness in a known environment.
Cost:  Cost is less than 10% of the M98 cost.
Field Trials:  The Guard Bed has had a successful first field trial evaluation on a Navy vessel.  Additional field trials are on-going.
The Guard Bed technology is currently under test and review by the US Navy.  Research into this project was enabled through a Rapid Innovation Fund award.  The article below copied from the Edgewood Chemical Biological Center website highlights the progress made in coordination with ECBC and the NSWC Dahlgren.