As military units worldwide seek to provide advanced training on the use and maintenance of key pieces of equipment, Guild training technology provides a new and ever expanding level of technical sophistication.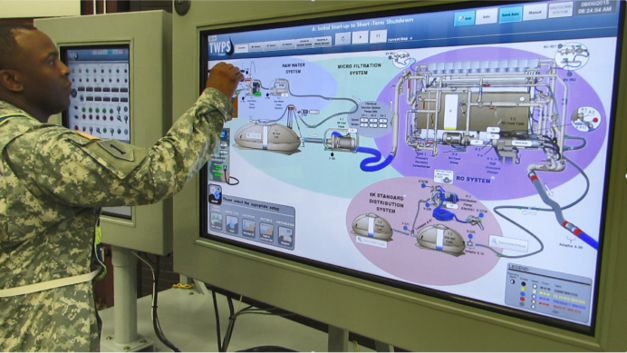 Our Training Simulators leverage our in-depth engineering expertise with a practical hands on understanding of the Army training requirements. The Guild team of Engineers and Technologists evaluate each piece of equipment and the various processes involved as part of their technical assessment. Following the technical assessment and review of all relevant training manuals, available process and engineering schematics, the Guild team applies the results of our analysis in the creation of an interactive process simulation trainer.
Traditional hands on equipment training has a variety of limiting factors. Most pieces of equipment are not built for the constant repetition required in a classroom or hands on training environment. In most cases, the number of students exceeds the available equipment – so training is often done in stages rather than in sequence. In addition, valuable and strategic training time is often restricted by the set-up and tear down time. Weather delays, are a continual problem for in the field, hands on training. The use of hazardous chemicals and disposal are of real concern as well as the filling and "phasing" on and off of various component systems such as hydraulics or tank fills – all issues that serve to limit the actual training time.
By creating an exact duplication of the actual system or process, the Guild Training Simulator sets a new standard in equipment training. The Guild Training Simulator – engineered to the exact specifications of the original piece of equipment gives both the instructor as well as the trainee virtual product accessibility where they can gain hands on experience before they ever activate a switch.
Interactive animations enhance instructor led or independent student training.
Platform allows multiple students to use and view system operation simultaneously.
Training platform allows for a diversity of operating scenarios and instantaneous equipment configuration set-up.
Virtual functionality allows for unlimited restarting and operating scenarios.
Interactive Video representation of system operation exposes Students to information not easily demonstrated or explained in traditional training material.
Training Asset Availability
Training simulation exposure allows Students to gain confidence and make mistakes without causing damage to actual equipment.
Training schedule not impacted by equipment downtime or climatic conditions.
No need to wait for equipment to be unpacked or set-up to start or torn down and packed to complete daily training.
No need to wait for equipment to be refueled, warmed-up, pressurized, or filled before starting training or drained, de-pressurized, or cooled down after training is completed.
Allows Instructors to induce and simulate equipment malfunctions thereby exposing Students to real-world situations and provide the opportunity to resolve problems in a safe/controlled environment.
Classroom and Field ready
Interactive Touch Screen design
HTML5 - Operating System and Device Neutral
SCORM compliant
Check on Learning and Interactive Quiz modes
Embedded TM-10 or other technical data as required
Guild presented the latest developments on our digital training simulator platform at the I/ITSEC 2015 Trade Show in Orlando, FL.  In an interview with I/ITSEC TV's Kari White, Henry Berns, Guild's President, explained how the trainers simulate error states encountered in the field, so that the troops operating equipment can maintain the systems effectively.
"We see a lot of really nice training simulators that show how aircraft can be flown and tanks can be driven, but there's not a lot of emphasis on how to maintain the equipment... We are focused on helping soldiers and sailors and airmen fix equipment."
Click to watch the Interview from the I/ITSEC Trade Show