Guild Associates designed and fielded the Mobile Integrated Remains Collection System (MIRCS) for the US Army to provide safe and respectful human remains collection in the war theatre in any place in the world.  Experience with the MIRCS has led to development of the RSU series of Portable Morgues in response to the COVID-19 pandemic. Download the Information Flyer here.
RSU Series Portable Morgues
The RSU series is designed to fill the need for safe and respectful temporary storage of human remains during times that the existing mortuary infrastructure may be overwhelmed.  Use of the RSU series will prevent further transmission of the COVID-19 virus post-mortem and facilitate respectful grieving process.  The RSU series of Mobile Morgues is available in three sizes to facilitate the storage of 8, 12 or 16 remains.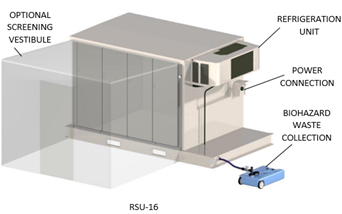 The RSU is a self-contained system for remains storage, designed for movement by forklift.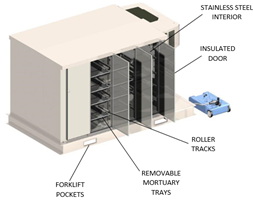 The RSU meets USA mortuary standards for temperature control and air exchange.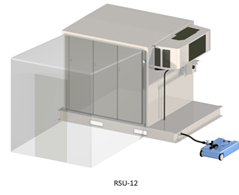 The RSU-12 shown with optional Screening Vestibule.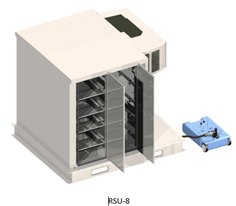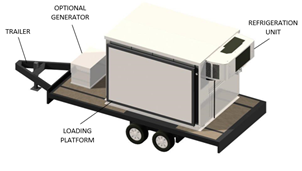 Trailer Mounted RSU-16 Shown with Generator in Transport Configuration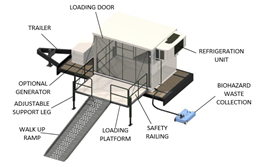 Trailer Mounted RSU-16 Shown with Generator in Deployed Configuration
Based on design of Mobile Integrated Remains Collection System (MIRCS) produced by Guild Associates for the US Army
Available in 4 sizes to accommodate 8, 12, 16 or 20 human remains
Remains stored on removable sliding trays that enable transfer out of the refrigerated area onto a gurney.
Optional vestibule screen available to shield transfer operations out of public view.
Insulated Refrigeration Area constructed of stainless steel for ease of cleaning.
Refrigeration Area Floor sloped with drain to capture biohazardous waste.
Equipped with a Carrier Transicold S-Series Electric Standby Refrigeration Unit.
Optional Diesel Engine RU with Fuel Tank available for remote operation available.
Table 1 - RSU Model Listing
| MODEL | STORAGE CAPACITY | RU SIZE | DIMENSIONS (IN/M) | WEIGHT (LBS/KG) |
| --- | --- | --- | --- | --- |
| RSU-8 | 8 | S-6 OR S-7 | 102/2.59 L x 96/2.44 W x 96/2.44 H | 3,400/1.542 |
| RSU-12 | 12 | S-7 OR S-8 | 128/3.25 L x 96/2.44 W x 96/2.44 H | 4,200/1,905 |
| RSU-16 | 16 | S-8 OR S-9 | 154/3.91 L x 96/2.44 W x 96/2.44 H | 5,400/2,449 |
| RSU-20 | 20 | S-9 | 180/4.57 L x 96/2.44 W x 96/2.44 H | 6,200/2,812 |